Anti-Chafe and Saddle Butter Compostable Tubes - Our most heat tolerant blends!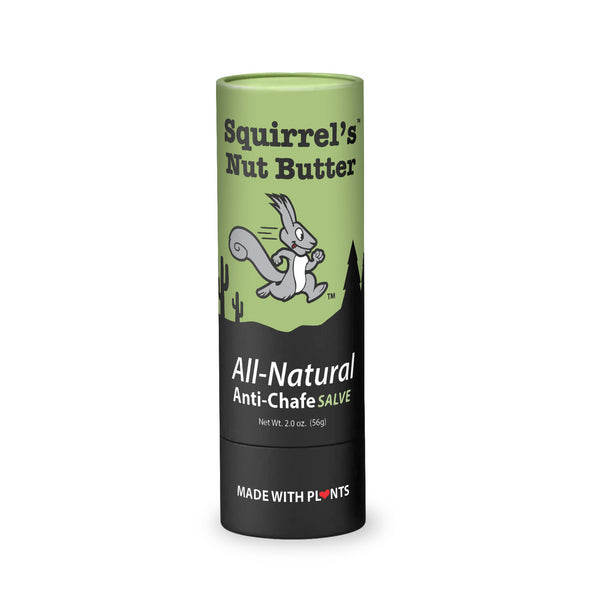 Anti-Chafe and Saddle Butter Compostable Tubes - Our most heat tolerant blends!
Protect areas of skin prone to chafing and blisters with the world's best all-natural, anti-chafe salve. 
It's our same, slick, best-selling product in a NEW 2.0 oz compostable tube! Coconut oil and cocoa butter create a slick, lasting barrier on the surface of your skin to prevent rubbing and irritation. Candelilla wax makes the slick barrier effective and long-lasting as it holds the oil and butter in place to keep your skin moisturized and chafe-free. That's why the happiest squirrels butter their nuts!
Ingredients: Cocos Nucifera (Coconut) Oil, Theobroma Cacao (Cocoa) Seed Butter, Euphorbia Cerifera (Candelilla) Wax, & Tocopherol (Vitamin E oil).
Know This: This blend includes only natural ingredients. An irregular finish is natural. In testing, this product maintains a solid form in temperatures above 122°F / 50°C and can also be applied below freezing temperatures. Store out of direct sunlight.
Directions for Use: To prevent chafing and blisters, apply before activity to any skin prone to chafing or blisters, including underarms, thighs, crotch, nipples, and feet, or under your bra or pack straps. Re-apply as needed.
Benefits / Details:
Our most heat-tolerant blend
100% compostable tube
Made with plants (vegan friendly)
Superior anti-chafe, anti-blister properties 
Weather resistant & lasting
Easy-to-apply tube 
Effective on eczema and other skin irritations
Works exceptionally well to restore dry or cracked hands, feet, and face
Stores: Select "2.0 ounce w/ Hanger" to purchase a hangable Tube. These Tubes can then be placed anywhere in the store: On a shelf or from a hanger.