4 oz Twin Pack
$44.99
$49.98
saving
$4.99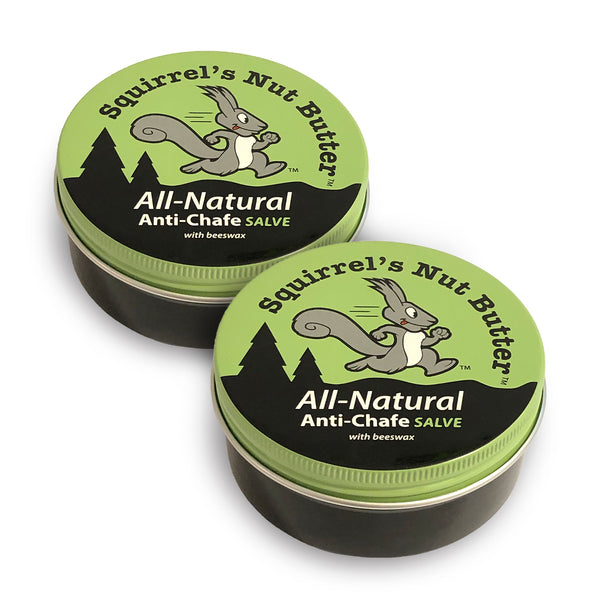 4 oz Twin Pack
$44.99
$49.98
saving
$4.99
Do you love our lube but find yourself going through it too fast?  Try a 4 oz Twin Pack! That is 8.0 ounces of lube in two manageable 4 oz tins.
NEW Recyclable Anti-Chafe Tins!
Our same great product is now in a recyclable tin. Protect areas of skin prone to chafing and blisters with the world's best all-natural, anti-chafe salve. 
Know This: Only natural ingredients are used. This blend hardens in colder temps and becomes liquid in hot temps. The tin blend is best used in temperatures between 65 F / 18 C and 90 F 32 C. We suggest using our compostable tub or stick if outside this temperature range. Oil separation and an irregular finish are natural. 
Ingredients: Cocos Nucifera (Coconut) Oil, Theobroma Cacao (Cocoa) Seed Butter, Cera Alba (Beeswax) & Tocopherol (Vitamin E oil).
Directions for Use: Let the salve soften in the warmth of your hands, then apply. To prevent chafing and blisters, apply before activity directly to any skin prone to chafing or blisters, including underarms, thighs, crotch, nipples, and feet, or under your bra or pack straps. Re-apply as needed. Apply to dry, cracked, or irritated skin to improve skin health. 
Benefits:
Superior anti-chafe, anti-blister properties 
NEW recyclable tin
Pressure Sensitive Tamper Seal 
Weather-resistant & long-lasting
No synthetic ingredients
Effective on eczema and other skin irritations
Works exceptionally well to restore dry or cracked hands, feet, and face